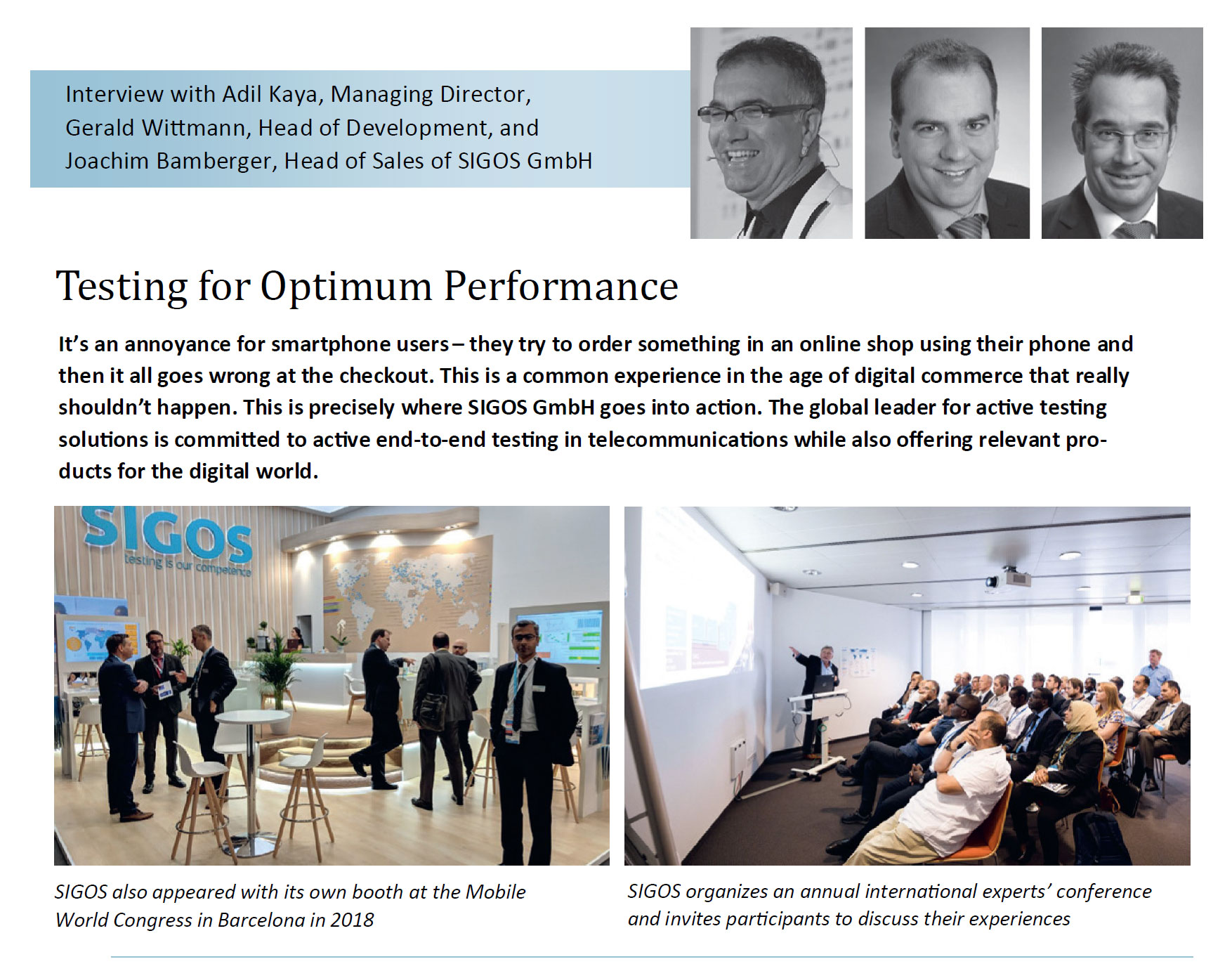 01 Apr

Testing for Optimum Performance

Interview with Adil Kaya in the Business Magazine "Wirthschaftsforum", April 2019

"Our modern communication has become extremely complex. Many smartphone apps have now become standard tools of everyday communication and their absence would be inconceivable in the lives of most smartphone users, for instance in online shopping", says Managing Director Adil Kaya, one of the co-founders of SIGOS. "And with online banking and mobile television, users also expect everything to work perfectly. This is precisely where we step in, with our active testing solutions, ensuring that cell carriers are able to offer mobile communication services of optimum quality."

(…)

Put simply, there's no longer any need for two people to phone each other to test the quality. Instead, the test is done automatically. We ad-dress simple questions such as 'what does the customer want to do with the cell carrier's ser-vice?' 'Is the quality good or is the cell coverage okay?' We monitor, we detect problems and we offer active improvement solutions." Using its testing solutions, SIGOS is able to simulate cus-tomer usage behavior and conduct proactive testing. Roaming scenarios can also be studied. "Let's say a customer in Japan wants to call home in Germany. Or maybe a German user calls a Japa-nese user in Japan. The roaming has to work properly. Today, quality testing can be done with our own 'probes' on an international scale" in just seconds, summarizes Adil Kaya. "These are very real scenarios that we are dealing with here. Eve-ryone is now using smartphones, which are mini-computers. If something doesn't work, the user calls the cell carrier, which means that smartphones are also tested. Just like the apps on the smartphone. In Germany, there aren't all that many apps being used yet, whereas in Africa, it's an entirely different situation. There, apps are used to transfer money. So national testing of apps is extremely important."

Read the whole interview with Adil Kaya, Gerald Wittmann and Joachim Bamberger here.